jkahless

wrote:

↑

Sat Aug 21, 2021 2:18 am

https://www.reddit.com/r/ufo/comments/e ... sure_ufos/

Weird that every bright star has the same artifact, eh?
Actually not really.
Y'know how in astrophotography SOME stars appear with spikes: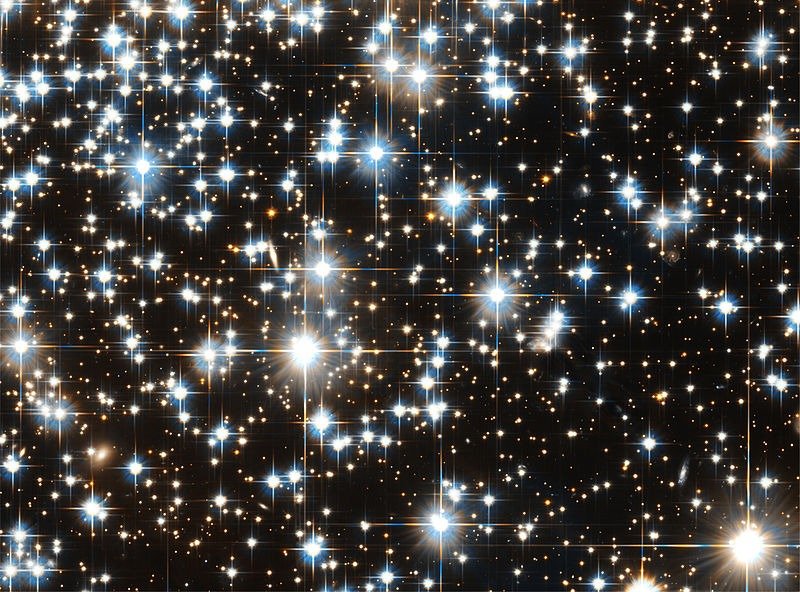 Those spikes are called diffraction spikes. They are caused by how in reflecting telescopes the light from the main mirror is redirected by another mirror to the recorder/instruments off in some direction. That secondary mirror is held in place by supports. It is the light that wraps around those supports AND gathered during long exposures that creates diffraction spikes. Actually ALL the stars in my example pic have diffraction spikes but the exposure time wasn't long enough to reveal those spikes for the dimmer stars. This phenomenon is such that some people EXPECT diffraction spikes:
This is not a star. Stars have pointy bits!

WonderDome visitor, age 7
To be sure, diffraction spikes do not explain your pic. Chances are that pic was taken with the assistance of a telephoto lens which most often are NOT reflecting telescopes (so no supports for a secondary mirror). On the other hand, flaws within telephoto lenses and within the cameras themselves are not unknown. As above, a longer exposure might have revealed that all the stars shown have that odd addition. A simpler test would be to have that astrophotographer take another pic with the same gear and exposure time but of a different region in the night sky though with similarly bright stars.
So...UFO or lens/camera flaw?
You probably will not see diffraction spikes nor lens flaws when taking any daytime pics using the same gear. The MUCH shorter exposure time in combination with light from all sources within a daytime pic usually will overwhelm such artifacts. Astrophotography has a tendency to expose all such problems in part because usually there isn't anything else in astropics to cover up flaws.
DEyncourt