I was doing my usual scans of sites.
On
SpaceWeather.com
they featured this picture on Saturday, 4/28: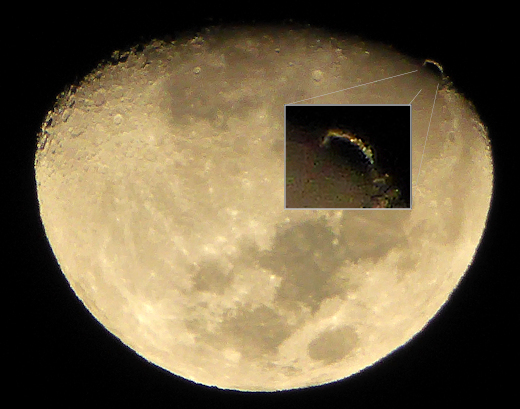 which is possible to be seen on the Moon for a few hours about 4 days before any Full Moon.
Do note: SpaceWeather.com changes nearly everyday, so eventually that picture will disappear from the front page.
The writer there mentioned that this mountain range can also be seen in "2001" during the sequence where the trans-lunar shuttle
Aries
(huh, I had forgotten that that ship had a name) is going to the Moon. So I had to find
that online
. As it happened you can see that mountain ridge in the very first shot in that video, although in "2001" the lunar phase a BIT more advanced that in the picture above.
Of course having the Blue Danube playing is always pleasant so I let that video play on.
But then I noticed something starting at the 1 minute mark: why does the
Aries
have to deploy her retracted landing gear?
I suppose that in terms of clean lines, having the smooth surface of the nearly spherical
Aries
--aside from her rear engine cluster--is a bonus, BUT for a trans-lunar shuttle that presumably never enters the Earth's atmosphere this does seem like a rather unnecessary feature.
I guess an argument could be made that the landing gear is retracted to help protect it from possible strikes from meteors or man-made space debris, but if that were a common problem in "2001" then that would also call for other changes like removing those big windows from the cockpit of the
Aries
.
DEyncourt